---
Sprites -- notably red sprites -- are huge electrical discharges upwards from thunderlouds into the ionosphere, typically to a height of 80 km above the earth.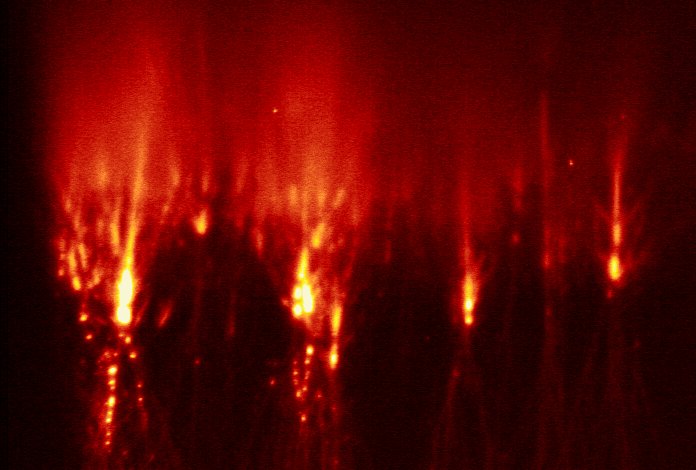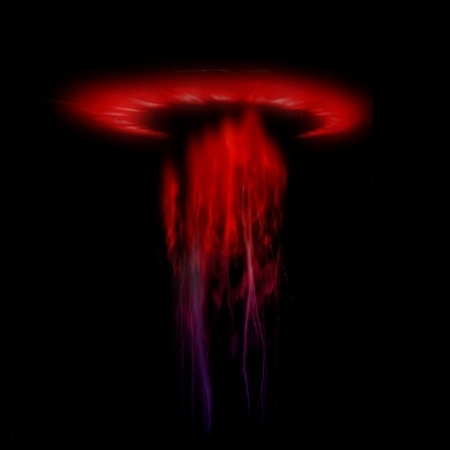 Lightning, red sprites and elves with ionospheric halo

See the links and references below

Huge Red Sprites seen over Northern Territory

The following is an unedited Press Release issued at the beginning of December, 1997.

>>>
>>>PRESS RELEASE
>>>
>>>"Huge jellyfish-shaped lights in the sky above Australia's Northern
>>Territory."
>>>
>>>A research team from the University of Otago, Dunedin, New Zealand, working
>>>at "Window on the Wetlands" (60 km from Darwin) have captured 72 images of
>>>"Red Sprites" on video tape on Wednesday night, 26th November.  These red
>>>sprites are believed to be produced by an electrical discharge from the top
>>>of a thunder cloud (about 10 km altitude) to the base of the ionosphere (90
>>>km altitude).  The jellyfish-shaped luminosity usually extends from 50 km
>>>to 80 km and so is 30 km from bottom to top and generally about 50 km wide.
>>>The dozen or so "jellyfish tentacles" hanging down are only about 1 km in
>>>diameter.  All of the 72 red sprites observed on 26th November are believed
>>>to have occurred above the Wingate Mountains, about 250 km south of Darwin.
>>>
>>>Such "Red Sprites" were discovered accidentally on tape from a very
>>>sensitive video camera under test in America a few years ago.  Until now,
>>>the only ground-based video images have been made in the USA, mainly in
>>>Colorado, though some have been observed from the Space Shuttle.  The Otago
>>>team, lead by Professor Dowden, had previously established a link between
>>>very long wavelength (15 km) radio echoes and red sprites in Colorado and
>>>deduced that such radio echoes recorded in the Darwin area during the last
>>>Wet season (1996/97) meant that luminous red sprites must occur above the
>>>Northern Territory also.
>>>
>>>Although this is the first proved (video imaged) sighting of red sprites
>>>from the ground outside the USA, such red sprites must have occurred above
>>>NT every Wet season for millions of years.  They rarely last more than a
>>>tenth of a second and are generally faint, but some - certainly one and
>>>maybe up to nine of the 72 caught on video on Wednesday night - can be seen
>>>by the naked eye if one is well away from city lights and looking in the
>>>right direction.  Such red sprites must surely have been seen by the
>>>Aboriginal peoples in the past, particularly before modern man polluted the
>>>night sky with artificial lighting.  Is there an oral tradition of such
>>>sightings?
>>>
>>>The Otago team (Richard Dowden, John Bahr, Simon Hardman and James
>>>Brundell) are indebted to the Department of Parks and Wildlife for the use
>>>of Window on the Wetlands as an observatory and to Professor Zen Kawasaki
>>>of Osaka University, Japan, who is currently in Darwin researching
>>>lightning and lent a sensitive video camera for this purpose.
>>>========================================================
>>>Caption information for photograph available on request:
>>>
>>>Photograph of the video screen.  The jellyfish-shaped luminosity (top left)
>>>extends from 50 km altitude at the bottom to 80 km (260,000 feet) at the
>>>top.  The side to side width is about 50 km (30 miles).  The dozen or so
>>>"jellyfish tentacles" hanging down are only about 1 km in diameter.  The
>>>numbers in white give the date and time in GMT to a hundredth of a second.
>>>In NT local time this is 9:50 pm.
>>>========================================================

Three of the sprites seen last Wednesday (26 Nov, 1997) are now on the web at: here

>>===============================================
>>Tempory address on campaign chasing Red and VLF Sprites:
>>(until 6th December):
>>
>>Prof. Richard L Dowden
>>
>>Coolibah Resort
>>91 Aralia Street
>>Nightcliff
>>Darwin, Northern Territory, Australia, 0810
>>
>>Room Phone: +61 8 8985 4166
>>Motel Fax : +61 8 8985 4979
>>Cell Phone: +61 15 181 063 (Roaming from NZ)  [leave a message]
>>Email --- : dowden@otago.ac.nz (as usual)
>>

SPRITES and the CRCSS
Sprites ought to be abundant over Australia, but the NZ team has made the first scientific observations of these frabjous beasties. And what a monster they have observed ! The area about Darwin is one of the most thunderstorm-prone areas of the world. This is very well demonstrated by downloading the latest thermal (IR) imagery available in real-time from the GMS-5 satellite. GMS-5 is a geostationary satellite, and its IR imagery is colour coded so that the more intense colours indicate thunderstorm activity. The GPS-5 thermal image of the earth at the time of the reported observation of Red Sprites near Darwin is at http://ritz.otago.ac.nz:808/~omnipal/GMS5.html
There are no plans for sprite observation from FedSat 1. However, plans have been mooted for such studies using later satellites to be launched by the (Australian) CRCSS (Cooperative Research Centre for Satellite Systems).
The small satellite ROCSAT2, scheduled for launch in 2001, includes an imager for sprites. ROCSAT2 is being developed by the NSPO (National Space Program) of Taiwan.
References on Sprites and Elves
Sprites and Elves Page images observed by researchers from the Langmuir Laboratory and Kenendy Space Center, Fl.
Franz, R. C.; Nemzek, R. J.; and Winckler, J. R. ``Television Image of a Large Upward Electrical Discharge Above a Thunderstorm System.'' Science 249, 48, 1990.
Sentman, D. D.; Wescott, E. M.; Osborne, D. L.; Hampton, D. L.; and Heavner, M. J. ``Preliminary Results from the Sprite94 Aircraft Campaign, 1, Red Sprites.'' Geophys. Res. Let. 22, 1205, 1995.
Sentman, D. D. and Wescott, E. M. ``Red Sprites and Blue Jets: High-Altitude Optical Emissions Linked to Lightning.'' EOS, Trans. Amer. Geophys. Union 77, 1-4, 1996.