A rather more impressive TID was exposed by the tomographic means that Elizabeth had developed in the following paper published after her death:
E. Yizengaw, P. L. Dyson, E. A. Essex, M. B. Moldwin, Comprehensive ionosphere dynamics study over the Southern Hemisphere during the severe magnetic storm on 31 March 2001 Annales Geophysicae, 2005, 23, 707-721, 2005 doi:10.5194/angeo-23-707-2005, 2005.

Fig 6(b) and Fig 69(c) are most striking.
The extraordinarily tall (~400km) relativey narrow (~5 degrees latitude) plasma spikes extending "finger-like" upwards as delineated in this 2005 Annales Geophysicae paper.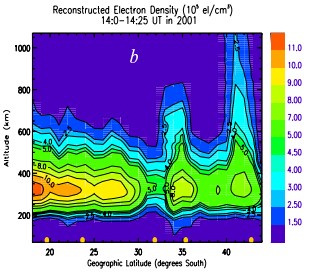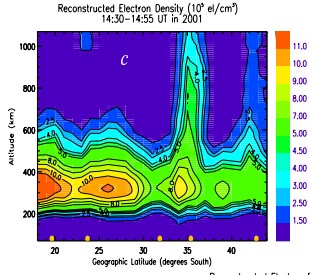 Note that these two figures differ by approximately 30 minutes and are (tomographic)snapshots of what is called a TID = Travelling Ionospheric Disturbance, bizarely similar -- though inverted - to an (atmospheric) hurricane.