The La Trobe Talking Communicator



Prototype Talking Communicator operated by a child capable only of activating a foot-control key. Computer used was an OZNAKI Project "Wizard's Box", a 1976 8-bit microcomputer called the Poly-88, a North Star floppy disc, and a commercial phoneme generator based on the SC-01 speech chip, mounted on a video cart, together with teacher's keyboard and TV modified to function as a display.
The prototypes for the La Trobe University Talking Communicator were developed using the resources of the OZNAKI Project, which was funded by the Education Research and Development Commission (ERDC) from 1976-1982. Using the proptotypes as a base, funds amounting to $75,000 were secured from the Australian Schools Commission, for a project entitled:
Computer Speech Communication, Access, and Programming by Severely Handicapped Non-Speech Children"
A total of nine Talking Communicators were assembled and delivered to the Yooralla Special School, in Glenroy, a suburb of Melbourne. Within the box, was the mother board of the first Australian PC, the MicroBee A description of the project at the roll-out stage is available in the downloadable paper, Harvey A, Cohen The La Trobe Talking Communicator for the Severely Disabled Speechless, A.H. Sale and G. Hawthorne, Editors, Proceedings of the Ninth Australian Computer Conference, Hobart, Australian Computer Society, Hobart, Vol 1 pp 266-275 (1982).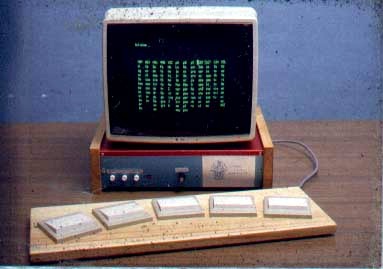 The La Trobe Talking Communicator



The report of the first six months of the Hawke government included this pix and caption: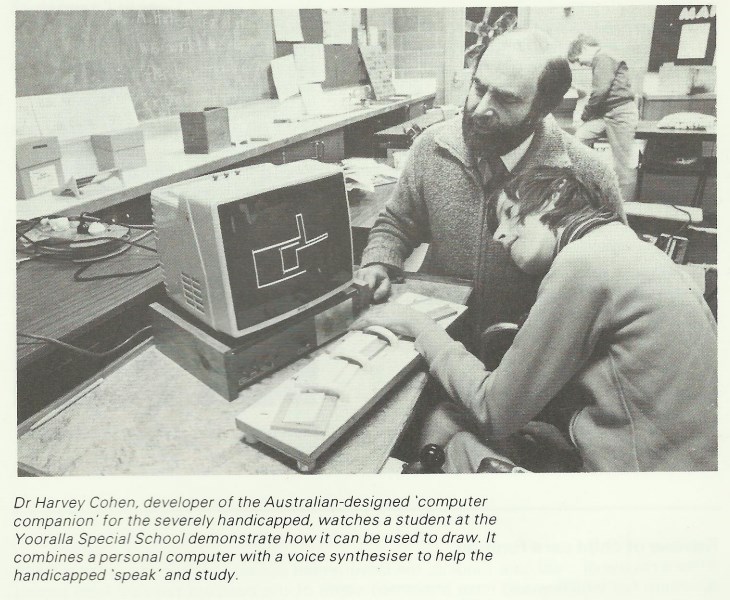 A well written newspaper account of the "computer companion" as it was conceived when delivered to Yooralla Special School Glenroy is here

The La Trobe Talking Communicator aka "The Computer Companion" for severely disabled speechless, arose out of the OZNAKI educational project

Other Computer Technology for the Handicapped


Computing by and for the Intellectually Impaired