ATMOZ-GPS Project
Sounding the Atmosphere
using GPS Signals

The objective of the GPS/Occultation experiment is to use signals from GPS satellites almost occulted by the Earth. Such signals have a path an important component of which is through the lower atmosphere. GPS signals indicate to remarkable precision the instant of trasnmission, and we know with precision the location of the SV, and of the receiving satellite Using near-occultation data we will be able to take temperature, pressure, and other measurements at hundreds of points on the Earth every day, extending from near the surface up through the ionosphere. See Overview of GPS/MET University Corporation for Atmospheric Research.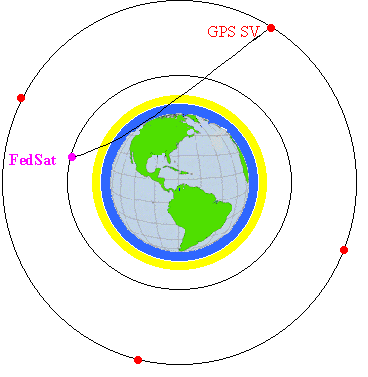 FedSat is shown in low earth orbit about the earth, atmosphere and ionosphere indicated. In a larger orbit of 12 hours period are shown the 4 GPS SV's (Space Vehicles) that traverse the same orbit. The total GPS sysytem involves 24 SVs in 6 orbits inclined at 55 degrees to the equator. Just one of the 4 SVs is in (near) occultation, and the GPS signals received by FedSat have passed through the atmosphere and ionosphere.
Space Weather
Ionospheric Tomography
FedSat 1 will have a GPS antenna that can detect signals from (almost) vertically above. We know precisely when and where GPS signal packets started out from and where and when FedSat received them. By comparing GPS signals of different frequencies, we can infer, after a mammoth "tomographical reconstruction" just what is going on -- in real-time -- through the atmosphere.